Updated Dietary Guidelines: 4 Key Takeaways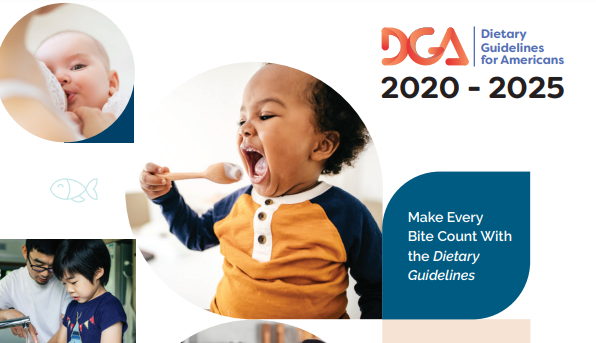 HealthSource Solutions  |  Blog
1. Follow a healthy dietary pattern at every life stage
For the first time, the Dietary Guidelines for Americans has included recommendations for infants and toddlers. It also noted that dietary habits formed in the first few years of life play a big role in our eating habits for the rest of our lives. Global events in the past year have led many families to be at home together more often. Never has there been a better time to promote healthy eating patterns among those that you live with.
Learn more: Harvard T.H. Chan School of Public Health: Kids Healthy Eating Plate
2. Customize food choices based on personal preferences and cultural traditions
It is possible to follow dietary guidelines while modifying food based on personal preferences. It is also important to modify choices based on cultural traditions. There are many websites and apps you can use to help prepare healthy meals you will enjoy. Try the My Plate Kitchen.
3. Include nutrient-dense foods
Nutrient-dense foods are foods that have a lot of nutrients relative to their calorie content. These foods offer the vitamins, minerals, and complex carbs our bodies need without added sugars, sodium, or saturated fats. Unprocessed fruits, vegetables, whole-grain products, beans, lentils, and seeds are all examples of nutrient-dense foods.
Learn more: American Heart Association: How Can I Eat More Nutrient Dense Foods?
4. Stay within calorie needs
Eating many non-nutrient-dense foods with added sugars, sodium, and fat can lead to excess calorie consumption. Your daily caloric need varies depending on your age, gender, activity level, and wellness goals. Calculating your caloric needs is the first step in aiming to stay within them each day.
Use the My Plate App to set and achieve healthy eating goals.